Leaving a positive footprint
Organisations hosting an event or conference in the Northern Territory are well positioned to incorporate meaningful CSR initiatives into their program. From the Top End to the Red Centre, here are five ways your organisation can make a difference through CSR.
Why Corporate Social Responsibility (CSR) is so beneficial.
CSR is an opportunity for businesses and organisations to make an impact and bring about positive change, by enabling event participants to form deep connections with the land and its people. CSR initiatives significantly enhance the quality of business events by providing mutually beneficial outcomes for delegates and the local community. By working with the Northern Territory Business Events to integrate CSR activities into your conference or event, you can make a real difference to the lives of local people.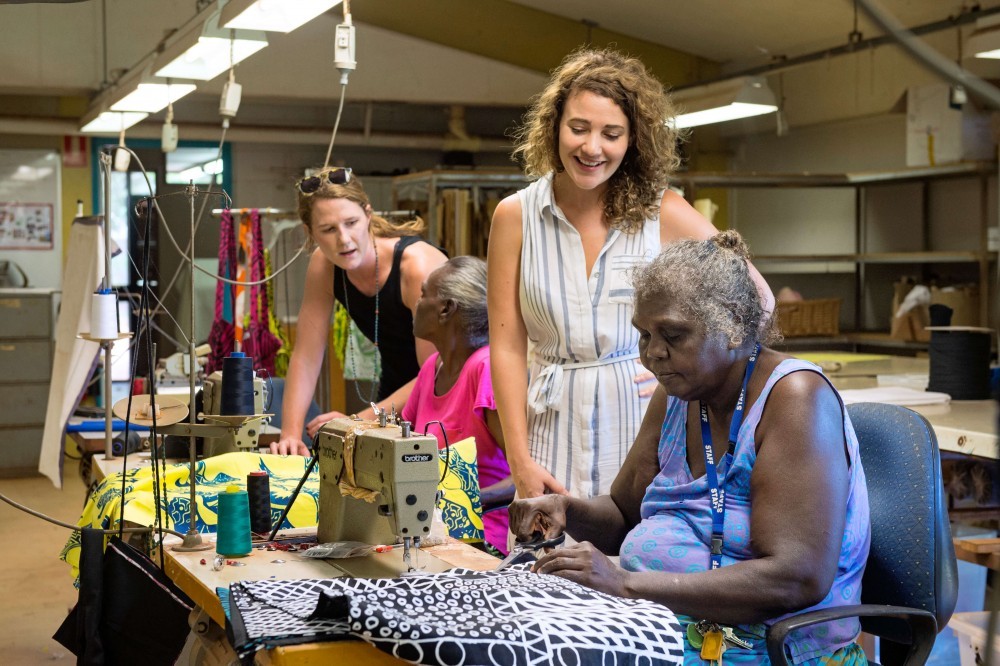 Get hands-on and help out
For the ultimate Top End experience combining sport, culture and opportunities to engage with the local community, the Tiwi Island Footy Grand Final and Art Sale is a winner. This multifaceted event (which is somewhat of a pilgrimage for locals) includes a lively grand final between rival Tiwi Island football teams and an impressive art sale featuring authentic Aboriginal paintings, sculptures and woven goods. Conference and incentive groups can volunteer their time on the day, helping local organisations on the ground where needed. Otherwise, you may prefer to help out in advance, through fundraising or financial support.
Business groups visiting Uluru will be inspired after a visit to Nyangatjatjara College, an Anangu college providing secondary education across three remote Aboriginal communities. Delegates can make a CSR contribution by undertaking a team-building activity tidying gardens and helping students maintain the school facilities as part of their visit.
Drum Atweme is an Alice Springs-based not-for-profit initiative designed to engage young indigenous youth in a drumming group. It aims to foster self-esteem and confidence amongst the participants and requires that they regularly attend school. Since commencing in 2004, Drum Atweme has performed at hundreds of community, conference and festival events in the Northern Territory and interstate. The group, which is largely self-funded, generally comprises young girls aged from 6-18 years old. Share in their musical journey by participating in one of their music lessons or engaging them to perform at your conference or event.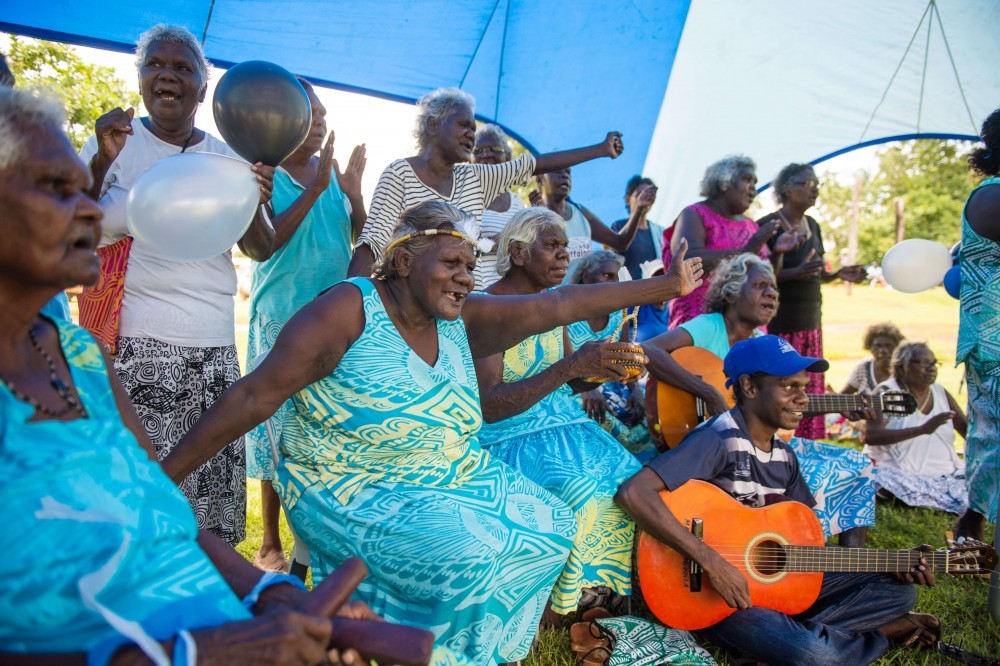 Donate part of your registration fee to a local charity
Invite delegates to donate to a local charity when they register for your event. You can incorporate a donation amount into the total registration fee or invite delegates to choose how much they'd like to donate, on top of the event registration fee. Either way, it is an easy and straightforward way to incorporate CSR into your event.
When planning an event at Uluru, consider partnering with the Mutitjulu Foundation which raises money to fund projects in the local Aboriginal communities of Mutitjulu, Docker River and Imanpa. In Darwin, consider supporting the combined Lions Clubs of the Top End who run the annual Beer Can Regatta which raises money for local charities such as the Asthma Foundation NT and the Darwin Volunteer Coast Guard. The Rotary Club of Alice Springs is another charity achieving great results, including their major fundraising event, the Henley on Todd Regatta. The Beer Can Regatta and the Henley on Todd are annual festivals providing a platform to enhance and enrich conferences and incentives in the NT.
In the planning stage reach out to the team at the NT Business Events for advice on choosing a local charity to partner with for your event. (They have ties with organisations dedicated to health care, education and environmental conservation, as well as non-profit bodies empowering Indigenous youth and assisting the disadvantaged.)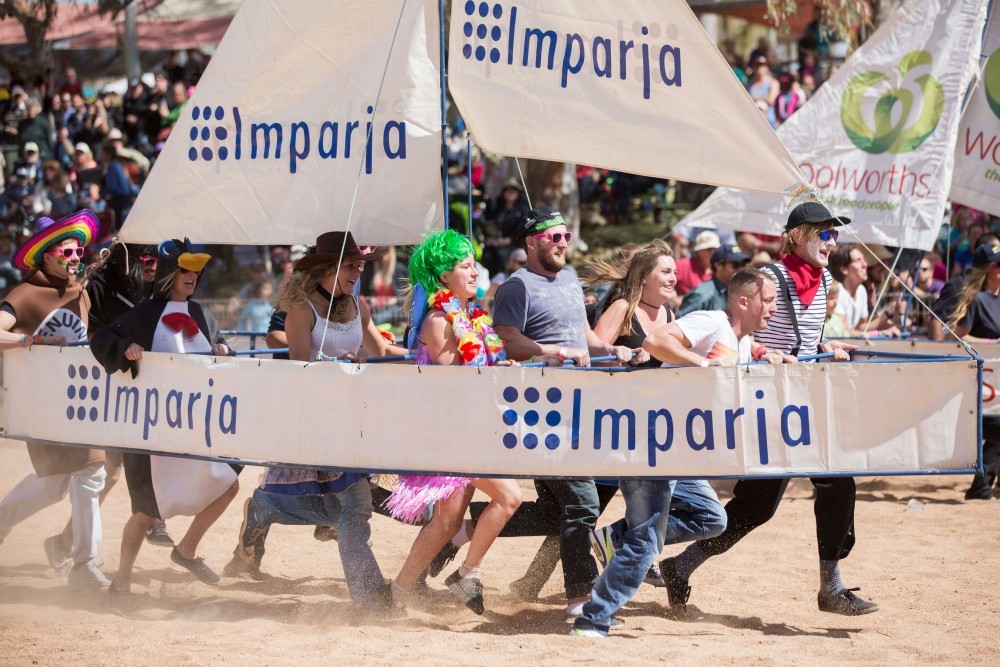 Join a workshop and learn something new
Sometimes the most powerful take-away messages aren't delivered by keynote speakers, but instead by local people engaged in grassroots activities, like healthcare and education. Interactive workshops enable delegates to connect with training providers and not-for-profit organisations while gaining a much deeper understanding of their work.
Purple House in Alice Springs is a healthcare provider helping patients who need end-stage kidney dialysis. They welcome event delegates to participate in bush balm making workshops, using local medicinal plants to create soothing body balms. Tours through the centre's bush medicine garden also give delegates an insight into valuable work the organisation does.
At Uluru, delegates can participate in Aboriginal dot-painting workshops with local Anangu artists at Maruku Arts. During these workshops participants learn about stories, symbols, tools and language associated with Central Australia's traditional art.
In Darwin, the Accelerated Aboriginal Cooks of Excellence program run by Karen Sheldon Catering offers cooking classes where hospitality trainees teach business event delegates to make Wattleseed bread rolls and Kakadu Plum chutney.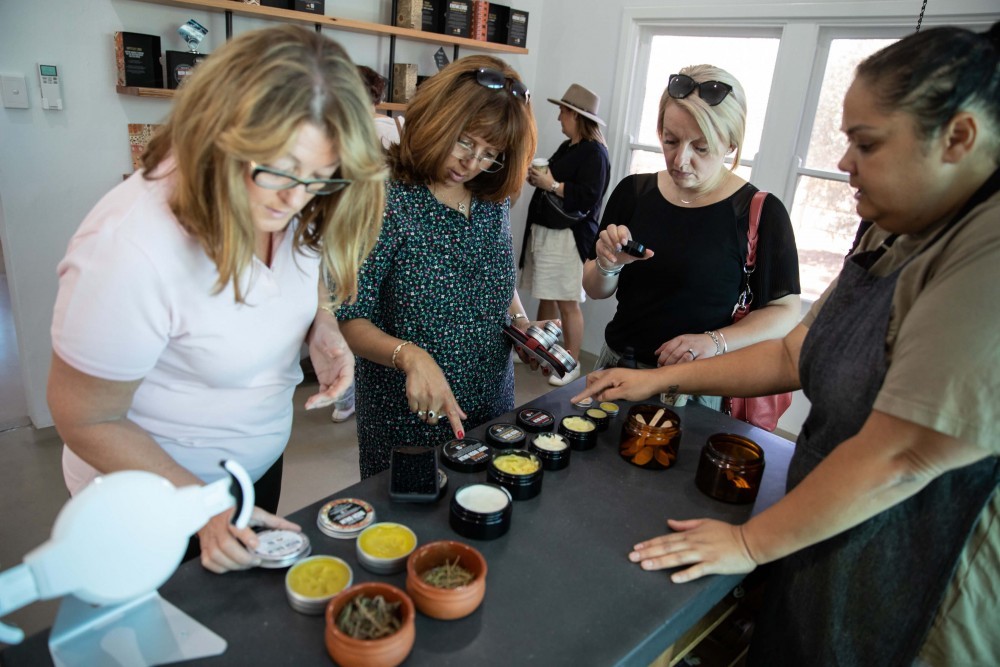 Buy from local businesses
When sourcing products for corporate gift bags, consider taking a CSR approach by ordering from local businesses like Helping People Achieve in Darwin. This organisation provides employment opportunities for people with disabilities. By ordering corporate gifts from these organisations, your event will be supporting local business and helping people with disabilities to achieve their full potential.
Share your knowledge with local people
If delegates attending your business event or conference have special skills they'd like to share, consider running a training session for members of the local community. Examples include free sports clinics for school kids, or specialist medical training for remote health centres.
Leave a legacy
Well planned and carefully considered CSR initiatives have the potential to create a ripple effect, spreading goodwill, cultural exchange, economic benefits and meaningful experiences for delegates and local communities alike. For help partnering with NT charities, businesses and other organisations and for creative ideas about incorporating CSR into your next business event, contact the NT Business Events.