Some of the Red Centre's best kept secrets
While accessibility, venue facilities and accommodation choices are critical to the success of an event, what delegates want are meaningful activities and experiences they can reflect on long after they've returned home. 
Whether it's major events and performances or intimate venues and grassroots exhibitions that appeal to you most, the NT's ancient culture and spectacular festivals will awe your delegates. From April to October the Red Centre is awash with colour, sound and creativity. Here are a handful of events that are destined to enhance and enrich your next business event in the Northern Territory.
Parrtjima – A Festival in Light
Parrtjima (pronounced Par-Chee-Ma) is a free 10-night festival where stories, languages and art of the Arrernte people light up the Mparntwe (Alice Springs) landscape. The only festival of its kind to explore and celebrate Aboriginal culture through illumination, it features a mesmerising outdoor gallery of light and sound which transforms the Alice Springs Desert Park into an enchanting place of wonder.
Each year this free event celebrates the ways in which artists evolve and experiment with different styles and materials, while staying true to Country and culture.
The festival provides a spectacular off-site venue and offers a broad selection of night time activities for conference and incentive groups visiting Alice Springs. For more information, click here.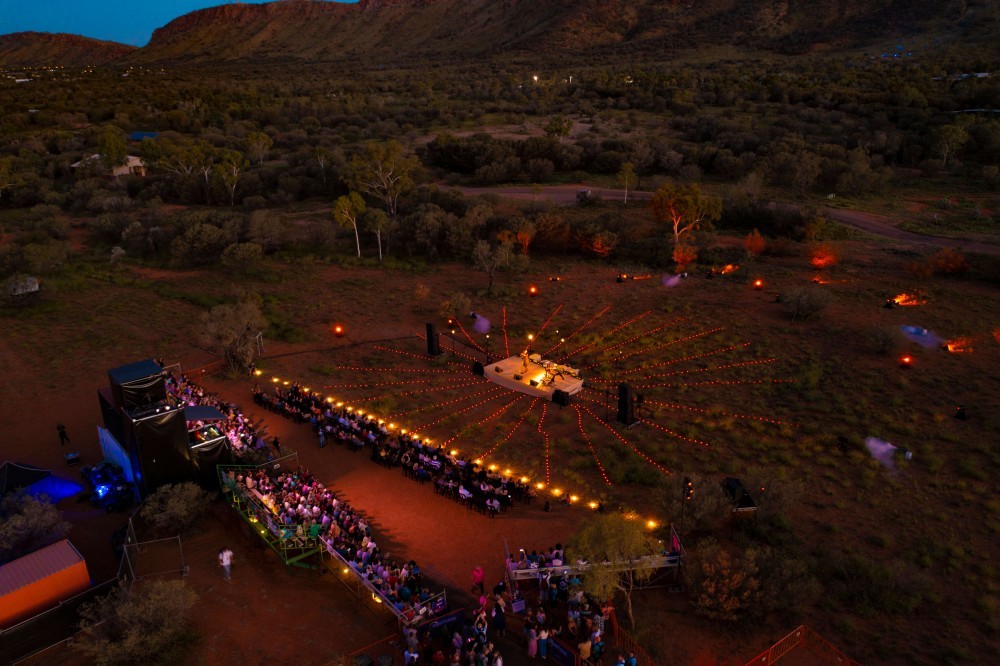 Desert Song Festival
The Desert Song Festival is a multicultural feast for your ears and eyes where singers, musicians and choirs unite. They invite you to join in the celebration of their musical heritage in a series of performances featuring traditional songs and music from Central Australia, Africa, India and the Americas.
From extravagant concerts to small group ensembles and intimate workshops, it'll be tough deciding which activities to include in your business event program. With such a diverse range of performers and festivities you'll want to experience them all.
Set in iconic heritage venues around Alice Springs and in stunning natural venues further afield, it's hard to imagine a better location, than against the backdrop of the MacDonnell Ranges or picturesque Ormiston Gorge, for audience members and performers alike to experience the strong connection between culture, country and song. 
Held in September the Desert Song Festival is a must for any business event taking place in Central Australia. For more information and for a full program of performances click here.
Henley On Todd Regatta
It's hard to imagine a more Australian event than this. If the Henley On Todd Regatta is anything to go by, it must be true. For where else can you find a waterless 'boating regatta' in the middle of the desert, on a dry, sandy river bed?
Originating in 1962, the Henley On Todd Regatta is a major fundraising event for the Rotary Club, held every August in the Todd River, Alice Springs. On this hilarious day out, you'll see teams and individual competitors race bottomless 'boats' along the dry river bed, plus a wild assortment of other fun competitions and challenges. Local entrants have the opportunity to build their own boat, otherwise all equipment and boats are provided (which is particularly handy if you're flying in from interstate). Just bring your hat and a sense of humour.
The Henley on Todd is a brilliant team building opportunity for any business event, where participants can share a fun-filled and uniquely Central Australian experience with their colleagues. To register a team or for spectator tickets click here. Alternatively, Alice Event Management and Consultancy can build a mini 'Henley-On-Todd Regatta' team building experience into your event program. Contact the NT Business Events team for more details.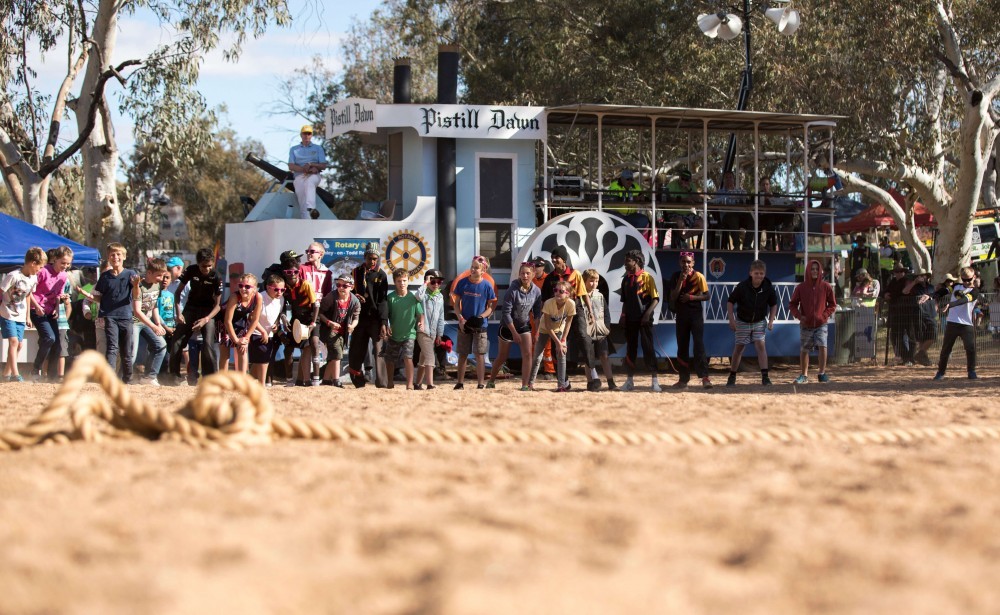 Field of Light Uluru
Try to imagine 50,000 illuminated spindles, sprouting from the desert sands across an area the size of seven football fields, forming an intricate web of softly coloured lights that somehow seem alive. This is the Field of Light – or Tili Wiru Tjuta Nyakutjaku which means 'looking at lots of beautiful lights' in the local Pitjantjatjara language.
This stunning light installation at Uluru, by internationally acclaimed artist Bruce Munro and hosted by Ayers Rock Resort, has been described as 'unearthly and uplifting' by the Daily Telegraph UK and 'art you feel, rather than art you view' by The Guardian. 
Located in a remote and secluded part of the resort, the Field of Light has the potential to be a highlight on your business event program. With access only available via an exclusive booking system, the once-in-a-lifetime display provides an unforgettable vision when a field of solar-powered spheres "flower" into colour, as pitch black darkness descends. Share drinks, a meal and memorable conversations under a blanket of stars, immersed in the surrounding landscape. A range of viewing options are available for conference and incentive groups.
For advice on how to incorporate this experience into your business event, click here.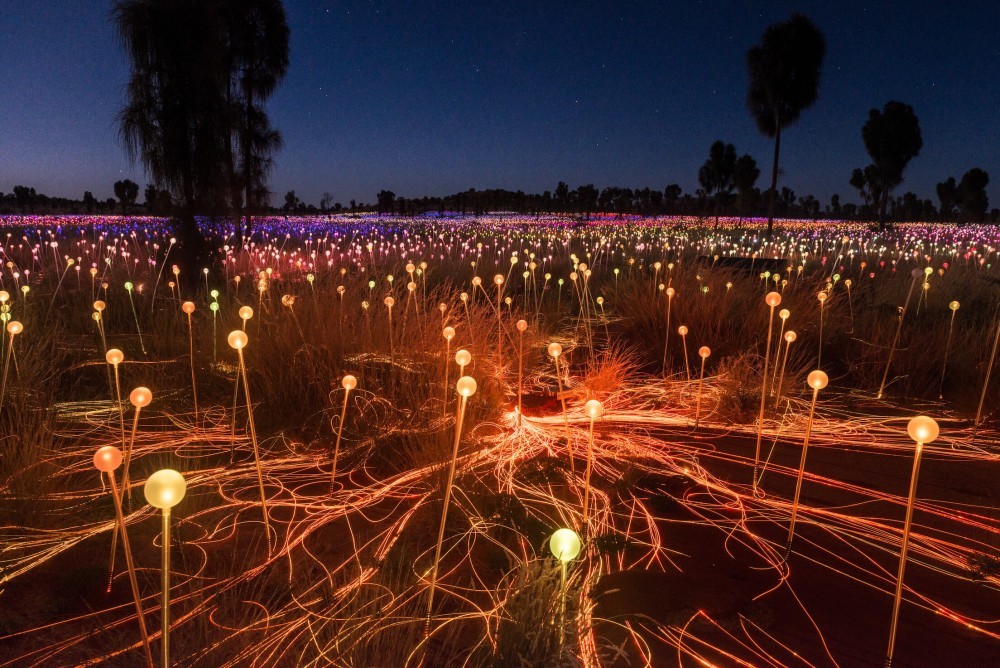 Uluru Camel Cup
Step aside Melbourne Cup, let the Uluru Camel Cup show you how it's done. This multi-award winning event (which donates part of its proceeds to the essential and life-saving Royal Flying Doctor Service) takes place at the Camel Farm in Yulara, near the World Heritage listed landmark Uluru.
Highlights of the two-day event include:
The Camel Cup Calcutta where you can bid on your favourite camel and enjoy a traditional country-style dinner with the locals (Friday night).
A full racing program, culminating in the famous Camel Cup race (Saturday)
Fashions in the Field, scenic helicopter flights, whip cracking demonstrations, reptile shows, markets and bush games (Saturday).
A gala ball under the stars, with live music on a red-dirt dance floor (Saturday night).
A business event featuring a trip to the Uluru Camel Cup offers guaranteed excitement when the camels and their jockeys hit the track. For more information about this click here. Alternatively, Uluru Camel Tours can build a mini 'Uluru Camel Cup' team building experience into your event program.
The Camel Farm has a permanent racetrack which can be utilised for bespoke camel races by conference and incentive groups. Contact the NT Business Events for information.
These are just the tip of the iceberg
Regardless of the size of your group or the length of your stay, there's a Red Centre festival to suit your program. Click here for a full list of festivals and events in the NT. Otherwise, reach out to the NT Business Events for local advice and help planning your visit.