6 Top End festivals guaranteed to add depth and vibrancy to your next business event
Art, culture, music and food – what more do you need?
From the rocky escarpment country of Kakadu to the stunning coastal communities of the Tiwi Islands, the Top End of the Northern Territory is a tropical destination for conferences and incentives that offers a laid-back atmosphere combined with state of the art facilities. When planning your event, don't overlook the value that a Top End festival can bring to your program, either as part of your main schedule or for pre/post touring options. Between March and October you'll find an abundance of festivals and events happening across the region. Here are just a few that are bound to add depth and authenticity to your visit.
A Taste of Kakadu
Described as a 'cultural food fest 65,000 years in the making', A Taste of Kakadu is Australia's premier traditional food festival. Held in the World Heritage-listed Kakadu National this event is hosted by local Indigenous Bininj/Mungguy people in collaboration with the country's top Indigenous chefs, and serves up a delicious array of culinary and cultural experiences.
Pairing timeless traditions with contemporary cuisine, A Taste of Kakadu is a thoughtfully curated collection of cultural experiences in a world-class Top End setting, including:
pop-up outdoor dining events
menus handcrafted by celebrity chefs
forage walks with Kakadu's Traditional Owners
canape cruises on picturesque billabongs
traditional ground-oven feasts
ancestral stories and cultural workshops; and
cooking masterclasses with Traditional Owners.
There's no better time for conference and incentive groups to visit Kakadu. Perfectly positioned for pre and post conference touring, you can combine all that Kakadu has to offer – diverse wildlife, stunning landscapes and luxury boutique wilderness lodges – with exclusive cultural and culinary experiences only available through A Taste of Kakadu. For more information about this festival, click here.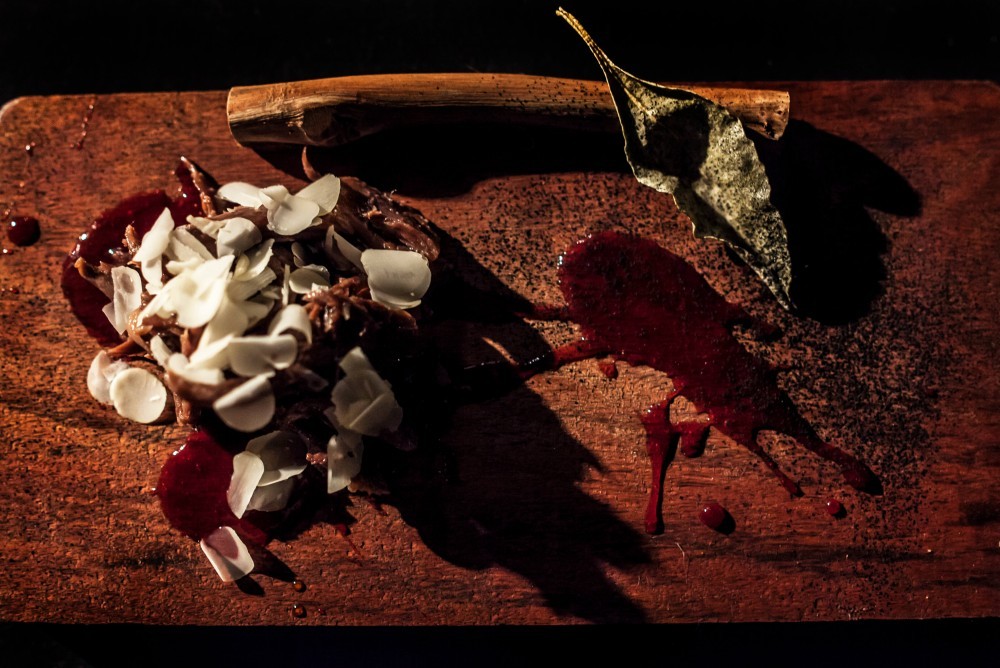 Darwin Festival
It's not just meetings and workshops that make a business event memorable, it's the 'one of a kind' activities that happen away from the meeting room that leave a lasting impression. Whether you're connecting with Darwin's cultural and artistic diversity or enjoying outdoor concerts and eateries, the Darwin Festival will leave a lasting impression. The Darwin Festival combines warm outdoor festivities with a program rich with local, national and international performers delivering a smorgasbord of cabaret, theatre, dance, visual arts and outdoor concerts. Gather your group at Festival Park – the heart of the arts – for a tasty dinner and drinks from the iconic bamboo food stalls and pop-up bars while listening to the soundtrack of local heroes on the Bamboo Bandstand or head to The Lighthouse – the festival's premier open air, big-top style venue – to see and hear some of Australia's hottest bands up on stage. 
For 18 spectacular days and nights, at venues across Darwin, locals and visitors, families and friends, unite under the stars in one of Australia's greatest celebrations of The Arts. While the rest of the country shivers through a cold dark winter, conference and incentive groups attending the Festival enjoy warm sunny days, cool comfortable nights and world class entertainment in Darwin's laid back, relaxed atmosphere.
Darwin Festival takes place in August in the heart of the city, where you'll find a generous selection of venues and accommodation for your next conference or business event, all within walking distance of the Festival. For more information, click here.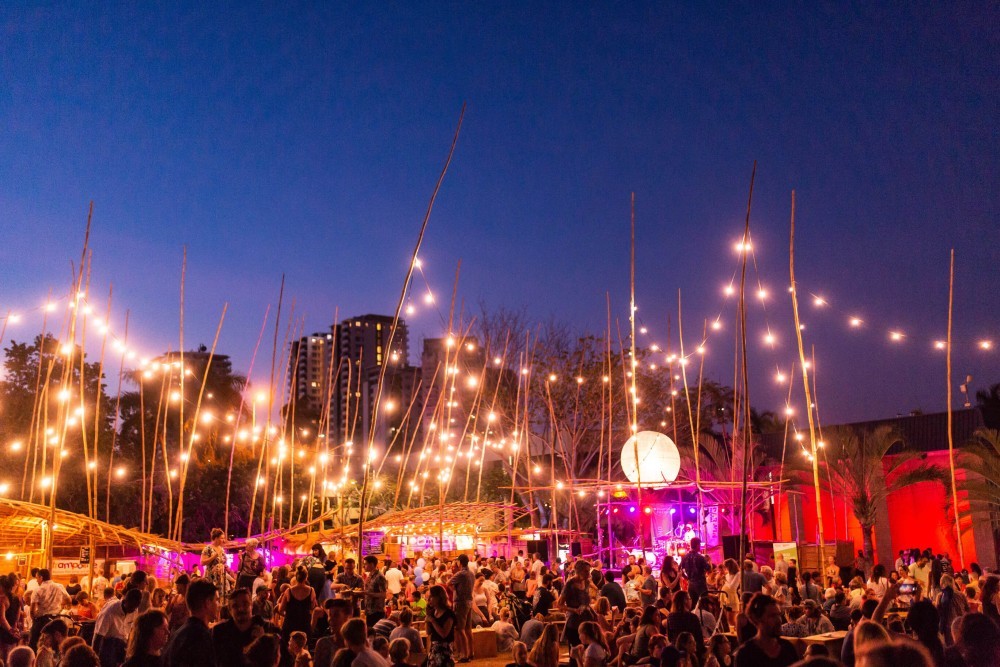 Tiwi Island Football Grand Final and Art Sale
In a place where footy (Australian rules football) and art is the lifeblood of the community, it makes perfect sense to combine the two in an annual event that celebrates the very best of Tiwi Island culture. Held in March each year, the Tiwi Islands Football Grand Final and Art Sale attracts visitors from across the Top End, eager to combine the excitement of grand final football with an impressive art sale featuring authentic Aboriginal artwork.
In a uniquely Territorian juxtaposition, footy fans and art lovers come together for this one-day event, to cheer on their favourite Tiwi Islands football team and to purchase traditional Tiwi art including ironwood carvings, ochre paintings on bark, canvas, linen and paper, original prints and screen-printed textiles.
For conference and incentive groups, this event not only provides an unforgettable opportunity to engage with local people and discover a world of art and authentic Aboriginal culture, but from a corporate social responsibility (CSR) perspective, your visit can also make a real difference by bringing about positive change and leaving a lasting legacy. From volunteering your time and effort for hands-on activities, engaging with community members, helping with fundraising, offering financial support or providing 'in-kind' assistance, NT Business Events has advice on how best to include CSR initiatives into your group's trip to the Tiwis. For more information about the Grand Final and Art Sale, click here.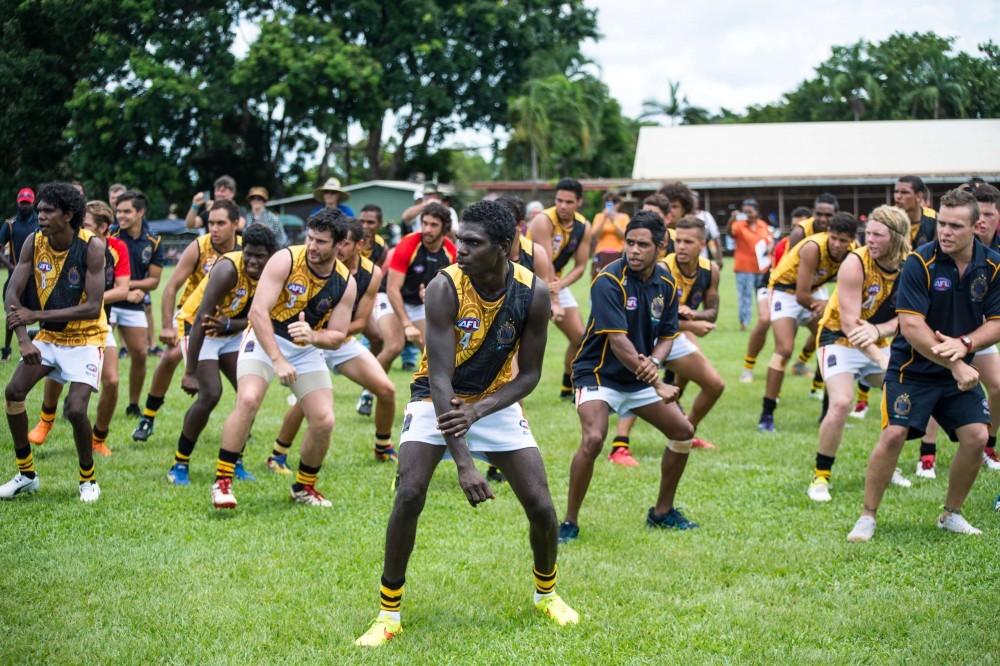 Beer Can Regatta and Mindil Beach Markets
Boats made from beer cans? Only in the Territory! The Beer Can Regatta is hosted by the combined Lions Clubs of the Top End in July at the famous Mindil Beach to raise money for local charities. In recent years this event has delivered much needed funds to the Asthma Foundation NT, the Darwin Volunteer Coast Guard and Mindil Beach Surf Life Saving Club.
This iconic community event is a great opportunity to include some fun-filled teambuilding shenanigans into your conference or incentive program, with races, competitions and games happening both on the water and on the beach. If time and planning allows, you can go all out and build your own boat – using beer cans, softdrink cans, plastic bottles or milk cartons – and join the 'Battle of Mindil' boat race, the highlight of the day. Or perhaps the iron person, thong throwing, tug-of-war and sandcastle building competitions are more your style.
Otherwise, there's always the option to relax in the shade watching the day unfold, as you enjoy delicious food and drinks from one of the nearby stalls at the famous Mindil Beach Markets. You might even consider booking a place for your group in the Market's VIP area, for the ultimate Mindil experience. This private area, ideally situated under the palms and just metres away from the markets, is perfect for welcome receptions, cocktails and small plate dining. VIP packages include:
an official welcome with a full history of Mindil Beach area and the markets
a briefing on what to see and do including local musicians, circus acts, local fashion, jewellery, arts and crafts.
front row sunset seats in the VIP area to take in the sights, smells and sounds of over 200 market stalls; and
'Mindil Money' for your guests to spend at any of the market stalls.
Delicious food platters and eskies are available for group bookings, or alternatively let your guests wander the markets themselves, sampling food and drinks from over 60 local food stalls.
Regardless of how you 'do' the Beer Can Regatta and Mindil Beach Markets, you're bound to be entertained.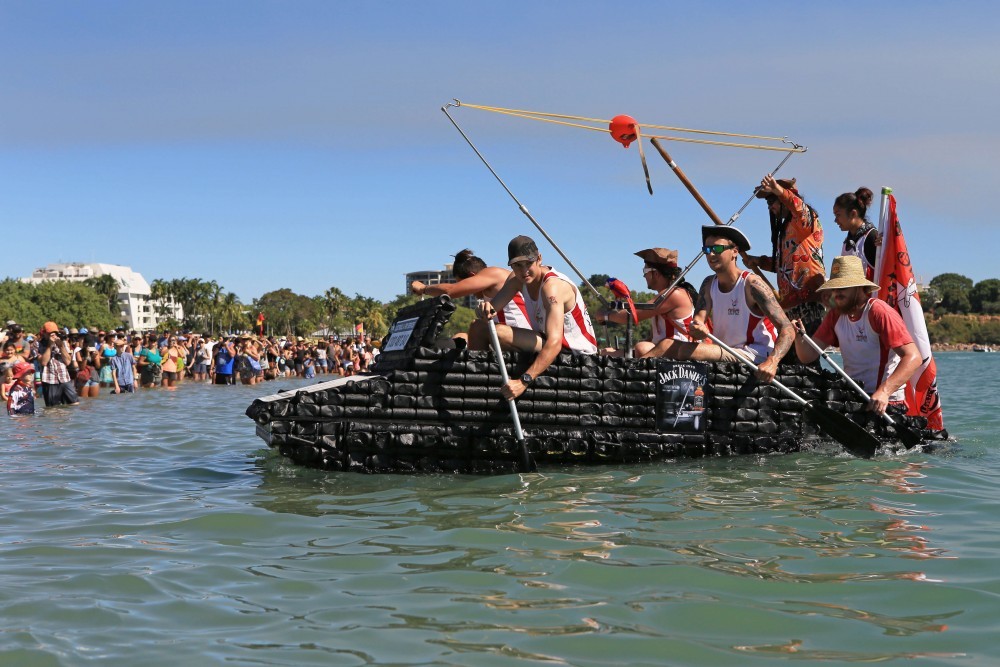 Garma Festival
Described as Australia's Indigenous equivalent of the World Economic Forum, and hosted by the Yothu Yindi Foundation, Garma is a vibrant annual celebration of Yolngu (Aboriginal people of North East Arnhem Land) culture. Incorporating visual art, ancient storytelling, music and dance, this internationally significant event is also a platform for important forums, education and training programs relevant to cultural tourism, craft, governance and youth leadership.
Conference and incentive groups keen to learn from and engage with Yolngu people can develop a deep appreciation of Aboriginal culture:
by listening to speakers and presentations at the Key Forum gathering,
by attending workshops and classes on language, kinship and bush foods and medicine,
through traditional song and ceremonial Bunggul dance each evening; and 
via film screenings, outdoor art exhibits and countless other hands-on activities.
This event is held in remote bushland about 40 kilometres drive from Nhulunbuy in North East Arnhem Land in August. Corporate groups are well catered for with a special dinner under the stars and their own deluxe camping area designed to encourage team interaction and discussion. Tickets include access to the 4-day event, airport shuttles, all meals, assembled tents and bedding. For more information, click here. 
This event is much more than a festival, it is a grass-roots community development platform, where individuals and organisations focused on the practice, preservation and maintenance of Aboriginal culture can come together and share their knowledge.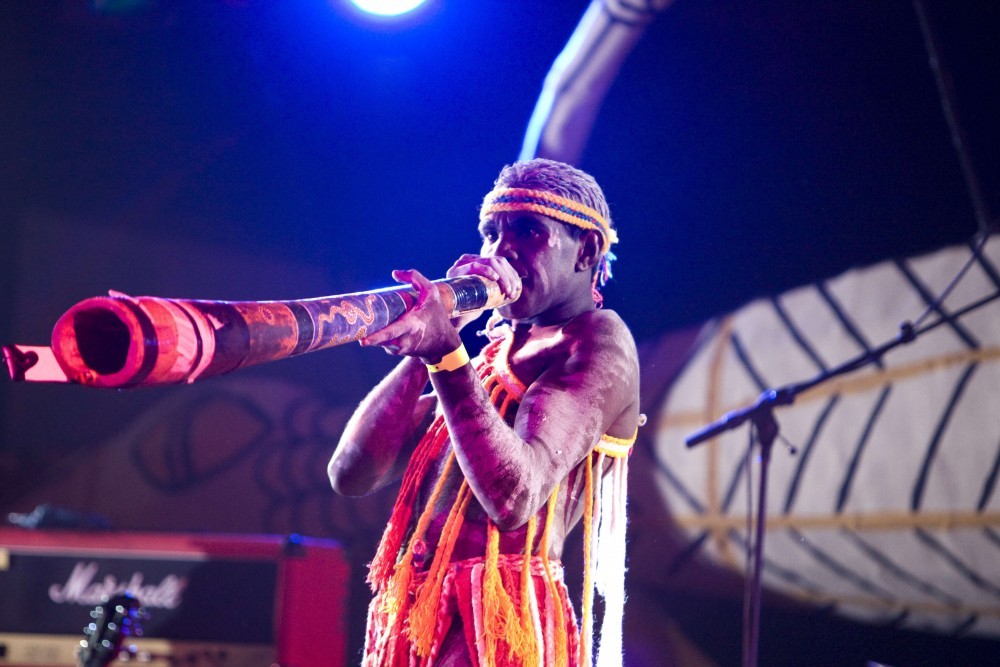 Darwin Aboriginal Art Fair
From north to south, east to west, the Northern Territory is a living breathing art gallery – the biggest in the world. Rich in art and culture which dates back more than 65,000 years, the NT is home to some of the most talented Aboriginal artists in the world. Their work is celebrated in a new Arts Trail which spans the length and breadth of the Territory. Whether it's ironwood carvings on the Tiwi Islands, rock art in Arnhem Land, pandanus weaving in Katherine, watercolours in Hermannsburg or the Western Desert Papunya Tula art movement, the Territory is brimming with art and culture.
The Darwin Aboriginal Art Fair is an important part of the Arts Trail network, showcasing the work of more than 70 remote Aboriginal community art centres and over 2000 emerging and established artists. Held in August at the Darwin Convention Centre, this event is the perfect opportunity for conference and incentive groups to see and buy ethically sourced art from across the Northern Territory, including paintings on canvas, bark and paper, sculptures, didgeridoos and fibre art. 
With cultural performances and storytelling, children's art activities, artist talks, workshops and demonstrations this event will make a meaningful cultural contribution to your program. For more information about the Darwin Aboriginal Art Fair, click here.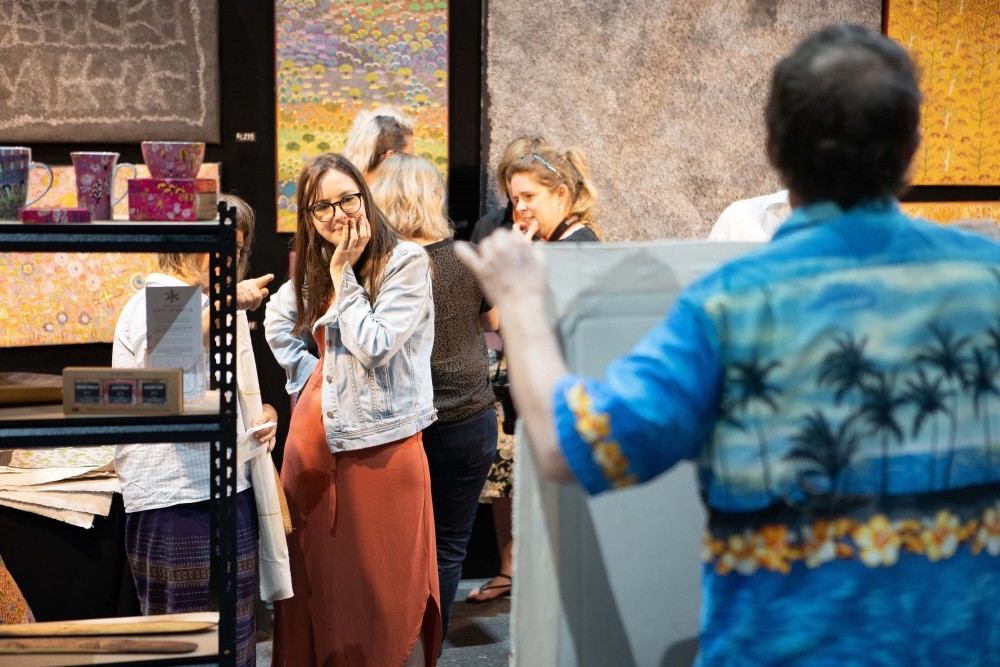 It doesn't end there
These are just a handful of the exciting and eclectic range of festivals and events happening in the Top End. Regardless of your group's interests or demographic, there's something for everyone. Click here for a full list of festivals and events in the Northern Territory. Otherwise, reach out to the NT Business Events for local advice and help planning your visit or incorporating any of these events into your business event.